Data Management for SolidWorks
---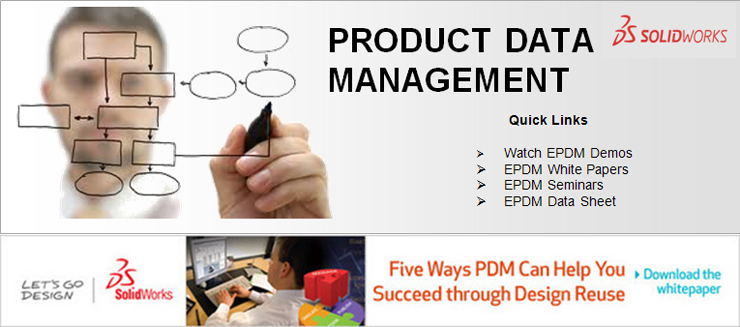 With SolidWorks Enterprise PDM (Product Data Management), distributed design teams can manage product data, share design information, automate workflows, and improve collaboration between engineering and manufacturing.
Better products, produced faster and at lower cost. In a fraction of the time and at far less cost than other enterprise product data management (PDM) systems, you can deploy and integrate SolidWorks® Enterprise PDM.
SolidWorks Premium Capabilities:
| | |
| --- | --- |
| | Secure access. Protect your product design data with secure managed access to authorized individuals, over a network or via the web. In addition to internal users, you also can permit access to partners, customers, and your supply chain. |
| | |
| | Revision control. Help your design team avoid overwriting files, and assist purchasing and manufacturing in ordering and producing the correct parts, every time. |
| | |
| | Find files. Quickly and easily find SolidWorks files by searching on metadata (Custom Properties). |
SOLIDWORKS ENTERPRISE PDM ADVANTAGES:
Easy to implement and use.
Scalable to provide secure data access for design teams of all sizes, in any geographic location.
Global to enable companies to manage data at multiple locations with automatic file replication at each site.
Automated to support workflow processes such as engineering change notice (ECN)/engineering change order (ECO) with flexible notification.
Compatible to support integration and connectivity to material requirements planning (MRP)/enterprise resource planning (ERP) systems.
Reliable to provide full audit trails that help satisfy governmental documentation regulations.
Five Ways PDM Can Help You Succeed through Design Reuse

How often do you find yourself spending valuable time searching for a model or a file? Have you ever had to recreate a model because you could not find the original? Have you ever spent time creating a design only to discover later that one of your colleagues had previously modeled a similar design that would have met your needs? If you are not using an integrated product data management (PDM) system, chances are you can relate to these time-consuming scenarios.